News
Recommended book of March "Worship in Spirit and Truth"
페이지 정보

작성자
admin
댓글
Comment: 0
조회
Hit: 783
작성일

Date: 22-03-10 15:26
본문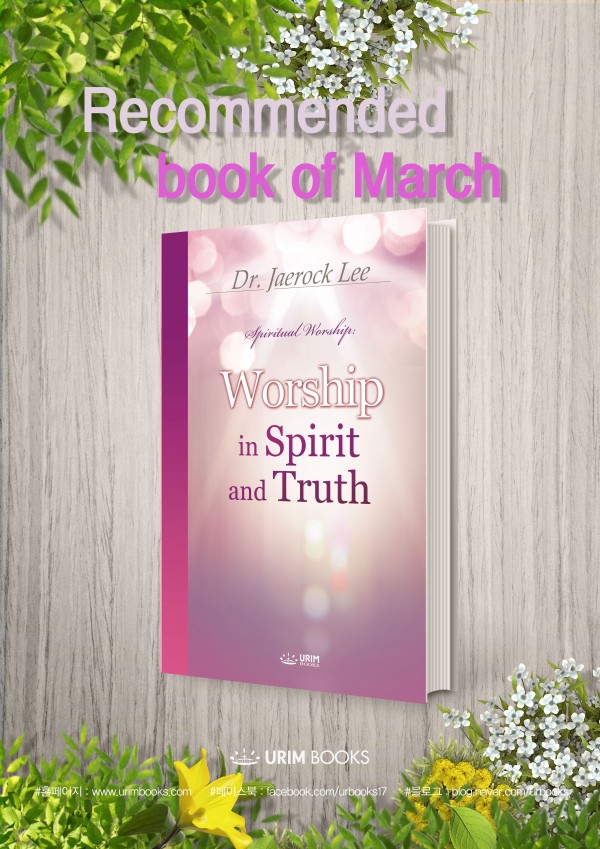 Worship is a ceremony at which respect and adoration are shown before divinity. In sum, as Christians worship is a ceremony during which we give thanks to and lift God up with our respect, praise, and glory. In both Old Testament times and today, God has sought and continues to seek out those who worship Him in spirit and truth.
Recorded in Leviticus of the Old Testament are the minutest details on worship.
Some people claim that because Leviticus is about laws on offering to God in the Old Testament way, the Book is irrelevant to us today. This could not be more false because of the significance of the Old Testament laws on worship that are embedded in the ways in which we worship today. As was the case during Old Testament times, worship in New Testament times is the path on which we meet God. Only when we follow the spiritual significance of Old Testament laws on offering, which was blameless, can we also worship God in New Testament times in spirit and truth.
This work delves into the lessons and the significance the different offerings provide by individually exploring burnt offerings, grain offerings, peace offerings, sin offerings, and guilt offerings as they apply to us living in New Testament times.
God tells us, "You shall be holy, for I am holy" (Leviticus 11:45; 1 Peter 1:16), and desires each of us to wholly understand the laws on offerings recorded in Leviticus and lead a sacred life. I hope you will come to understand every aspect of offering in Old Testament times and worship in New Testament times.
I also hope that you will examine the manner in which you worship, and come to worship God in a way that is pleasing to Him.
I pray in the name of our Lord Jesus Christ that just as Solomon pleased God with his thousand burnt offerings, may each reader of this work be used as a precious device before God and, like a tree planted by the water, may you enjoy overflowing blessings by giving unto God the fragrance of love and gratitude by worshiping Him in spirit and truth!
Excerpts from the preface of the book "Worship in Spirit and Truth"
US
https://www.amazon.com/Worship-Spirit-Truth-Jaerock-Lee/dp/8975579786/ref=sr_1_1?crid=28IIMLOCKIJZP&keywords=jaerock+worship+in+spirit+and+truth&qid=1645518758&sprefix=jaerock+worship+in+spirit+and+truth+%2Caps%2C228&sr=8-1
UK
https://www.amazon.co.uk/Worship-Spirit-Truth-Jaerock-Lee/dp/8975579786/ref=sr_1_1?crid=38HVC5WX6G342&keywords=jaerock+worship+in+spirit+and+truth&qid=1645519393&sprefix=jaerock+worship+in+spirit+and+trut%2Caps%2C318&sr=8-1
South Africa
https://www.exclusivebooks.co.za/product/9788975579783
Australia
https://www.booktopia.com.au/worship-in-spirit-and-truth-jaerock-lee/book/9788975579783.html